We Are Back from our Holidays!!
Author: Ann Date Posted:1 January 2021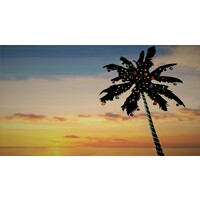 ---
Back From Holidays But Still Just Shipping to Queensland.
We are back from our annual holidays and will be taking orders as of today. Queensland Only.
Unfortunately, we will be only shipping to Queensland as the recent outbreaks in NSW and Victoria will delay Australia Post's delivery times. We will not be delivering to NSW or Vic until we are advised from Auspost that average delivery times to NSW are 5 days or less.
We realize that this will be frustrating, but that's life! We've had a few customers express their disappointment , we are disappointed too. We make our business decisions based on what is best for the longevity of our business and for us, we have 20 years experience sending plants from Far North Queensland all over Australia. We do not take our decision lightly.
At the beginning of the pandemic, we made recommendations about holding off ordering and had some issues with customers trying to place blame with us when shipping took longer than expected. We do not need the stress. Therefore, we will not be sending to Vic or NSW until we deem it reasonably safe to do so.
On the upside, it's giving us time to propagate things we don't normally have time for so the New Year should bring good things!!!
Warm Regards, Ann&Scott
W
---
Leave a comment