Heliconia Taumalolo
Author: Ann Cains Date Posted:13 October 2017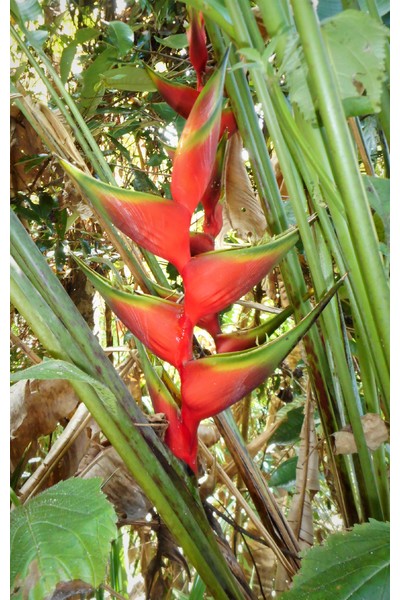 Coming Soon a Brand New Heliconia Heliconia Taumalolo is a new and exciting heliconia bred in Far North Queensland at El Arish Tropical Exotics
We would like to introduce a new heliconia to the world. It was bred here at El Arish Tropical Exotics and we have named it Heliconia Taumalolo. This beautiful heliconia was a naturally produced seed that popped up and grew at our nursery. We believe it to be a bihai but can't be sure of the parentage. Although like Nappi Red it has less yellow and has a deep dark blush on the outer parts of the bract. A strong grower we believe it will only get better and better. Our new beauty is currently in production and should be available Spring 2018 for sale. We recommend it for tropical gardens anywhere above Northern New South Wales as we cannot be sure of it's cold hardiness at this point. Taumalolo is a striking heliconia that is an excellent cut flower and attractive landscaping heliconia with a compact upright habit to two meters. Taumalolo has been named for NQ Cowboys forward Jason Taumalolo. We believe it to be the first and only heliconia in the world to be named after a Rugby League player. Some of you may think we've named it after Jason for being the best forward in the business, or because he signed a 10 year contract with the Cowboys, or because he's a Daly M winner.
Why on Earth name it Taumalolo?
Our son plays Junior Rugby League for our local club the Tully Tigers. It's not a big team, the boys travel two hours each way every week for matches, often there are not enough players for interchanges, at times they play with only 12. But last year they won the Cairns Junior Rugby League U15 Championship. Our senior club invited the U15 boys to their Presentation Night and had special training shorts for the junior boys. It probably doesn't sound like it's a big deal but it was. The club had some very special guests attending. Jake Clifford a former Tully Tiger player had invited Jason Taumalolo and Coen Hess to attend. It was all very exciting until we got the news that due to winning the Dally M Jason would have to stay in Sydney due to press commitments. Who could blame the lad? This was his moment to shine and bask in the glory. We were still very happy to have Coen Hess attending, who is an incredible player and since then has played for the Queensland Maroons after playing only one season.
To make a long-winded story shorter Jason did end up getting out of his press commitments and he flew up to our tiny town to be at the presentation held at the high school gymnasium. Coen Hess and Jason Taumalolo were so lovely. They handed out trophies and shorts, shook hands, mingled with the locals and took group photos with our U15 champions. They behaved nothing like rockstar rugby league players. There were no incidents involving toy poodles, no attempt to collect personal body fluids with their mouths; instead they were gracious polite country lads. (As a mother I applaud your parents, you have both been raised well and your parents should be very proud of both of you). Unfortunately, I am technologically challenged and was unable to get it together to snap a group photo. My son Sean asked the two if they would pose for a photo with him which they graciously did.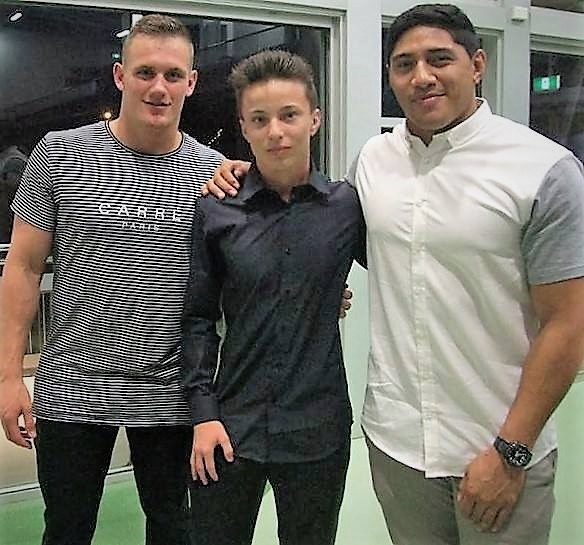 The next day wandering around thinking about how lucky I was that they said yes to the photo with my son and how much strife I would've been in if I had been too incompetent to get any photo. I also thought about Jason Tamalolo sacrificing his moment in the limelight to honor a commitment he had made to a friend and to a small country town club. I thought about role models and the positive effect I saw on my son and on my community made by a game with a little ball. I thought about how powerful small gestures can be and how they can empower.
In my happy fuzziness I went to check out a little clump of heliconias that had self seeded. To my shock it had some pretty gorgeous flowers on it and "Taumalolo" popped into my head for a name. Everyone who knows heliconias know they get really sexy names. Names like "Hot Rio Nites" Temptress" but this was definitely a Taumalolo. We sort of sat on it last year and waited to see how it grew. This year the flowers were bigger and the whole clump put on a good show and we decided to propagate it. And then the universe brought everything together…
Our local community had invited the Rugby League World Cup to use our showgrounds for practice. Tonga was the team allocated to use our facilities. I can guarantee we would never see a first-tier nation here, I can guarantee if the defections had happened earlier we wouldn't have seen Tonga here. But lucky us, some of the best players in the world are playing for their roots and they are coming here to practice! I hope we see more of this happening as it will only strenthen the game and make the cup more interesting. We have a meet and greet scheduled for Wednesday and an open practice for Thursday. Fate has brought Jason back to Tully and I hope to present him with his flower.
As A Side Note
At this moment in time we have no grandstand to watch the open practice from. The Percy Pease Grandstand has been condemned and the Cassowary Coast Regional Council says there is no money to fix it. The Tongan team should feel right at home.
Backgound on Heliconias: Why is exciting to get a new heliconia in Australia ?
Heliconias as mostly from South and Central America. They have evolved to be pollinated by the long proboscis of the hummingbird. We have no hummingbirds in Australia so heliconias we only get seeds from accidental pollinations from things like bats and ants. Most heliconias are propagated via rhizonme in Australia. Which explains why we think discovering Heliconia Taumamlo is sooo exciting!
The End, by the Cains Family